Datatronics logra la especialización Oracle PartnerNetwork en Comunicaciones
Datatronics Achieves Oracle PartnerNetwork Specialization for Communications – Oracle Recognizes Datatronics for Expertise in Addressing Needs of the Communications Industry
DATATRONICS, a System Integrator and VAR to telecommunications operators and a Gold Partner level member of Oracle PartnerNetwork (OPN), today announced it has achieved OPN Specialized status for Communications.
To achieve OPN Specialized status, partners must meet a stringent set of product-specific competency and business requirements that are based on the needs and priorities of the customer and partner community. By achieving the Communications Specialized distinction, DATATRONICS has been recognized by Oracle for its expertise applying Oracle's hardware and software solutions to the communications industry, delivering business results and proven success.

Specialization can provide customers with confidence that a partner is qualified in the defined product or industry area and able to successfully develop, architect and implement specific solutions.
"At DATATRONICS we are very enthusiastic to invest in OPN with a Specialization in Communications, and collaborate to help build a software-based telecommunications future", said Francisco Lopez, Managing Director at DATATRONICS. 
"DATATRONICS' recent Specialization in Communications demonstrates the wealth of their telecommunications experience and ability to offer additional benefits to our joint customers", said Enrique Mazon, Iberia Alliances and Channel Director, Oracle. "We congratulate DATATRONICS on achieving OPN Specialized status for Communications".
About DATATRONICS
DATATRONICS is a leading System Integrator and VAR to Telecom Operators and Service Providers with successful and proven expertise in Telco environments. The company offers high value-added solutions in the areas of Signaling, VoIP VAS and Interconnection, Synchronization, LTE, NFV, Network Intelligence, QoS & QoE Testing and Monitoring, and Roaming. Present in the market since 1996, DATATRONICS partners with leading technological companies and employs a team of engineers with proven expertise in providing professional services and telecom systems integration. With international projection, DATATRONICS has successfully deployed projects in EMEA and LATAM and provide Support & Maintenance services to all of its customers.
For further information, see www.datatronics.es
About Oracle PartnerNetwork
Oracle PartnerNetwork (OPN) Specialized is the latest version of Oracle's partner program that provides partners with tools to better develop, sell and implement Oracle solutions. OPN Specialized offers resources to train and support specialized knowledge of Oracle products and solutions and has evolved to recognize Oracle's growing product portfolio, partner base and business opportunity. Key to the latest enhancements to OPN is the ability for partners to differentiate through Specializations. Specializations are achieved through competency development, business results, expertise and proven success.
To find out more visit http://www.oracle.com/partners
Trademarks
Oracle and Java are registered trademarks of Oracle and/or its affiliates.
Datatronics
Calle Gabriela Mistral, 2
Madrid (España) 28035
Horario
L-J: 8:30 – 18:00 hrs.
V: 8:00 – 15:00 hrs.
S-D: Cerrado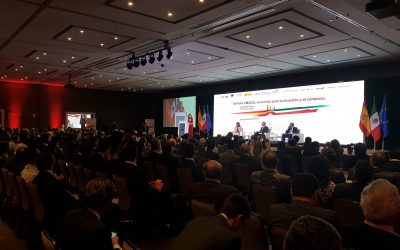 Datatronics participó la semana pasada en el encuentro de empresarios liderado por la Ministra de Industria, Reyes Maroto, y el CEO de Telefónica México, Carlos Morales, entre otros relevantes participantes.Las más de 40 empresas españolas que participaron en este...